Coming Event -
KAHUKU BEACH CLEAN-UP #2

Saturday, March 4 - 8:00 AM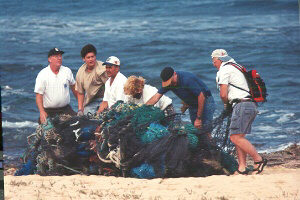 BEACH CLEAN-UP #1 - IN ACTION
On January 29, 2000, we sponsored a clean up at Kahuku Beach. What we found there was overwhelming but we were able to make a difference in just a day. BEFORE & AFTER PICTURES OF THE CLEAN-UP
There's still a lot more to be done (more pictures). Kahuku is one of the worst beaches on Oahu - you have to see it to believe it! If you would like to help, meet at
Kahuku High School parking lot
on Saturday, March 4, at 8:00 AM
Campbell Estate, along with EnviroWatch, Inc. will be sponsoring the event and lunch will be provided. Please RSVP by e-mailing us so we know how many to plan for.
Why should we clean up? Here are pictures of the effect nets and plastics have on birds .............
Per the National Marine Fisheries Service, last year there were 28 documented cases of endangered Hawai'ian Monk Seals entangled in nets. Come and make a difference.