As a candidate, Mayor Mufi Hannemann ran on a platform promising political reforms 
to address the ills caused by the previous administration.  In the infancy of
his administration, within days of his inauguration, he talked about the
concerns he had for our environment, which he believed suffered under the
Harris administration.  Harris laid claim to the title of "The Environmental Mayor," 
and now Hannemann was promising to address important environmental problems 
on the island of Oahu.
We believe that a prominent case which involves political reforms and
environmental issues is that of the "Sunset on the Beach" program.   
Interestingly, this case garnered media interest during the Harris administration.
Citizens and politicians alike wondered why taxpayers should be footing the
bill for events designed to bring tourism dollars to hotels and other
businesses in Waikiki, when these businesses could foot the bill themselves.
Nevertheless, Harris continued Sunset on the Beach.  Aside from the dubious
use of taxpayer money to fund these events, we were, and we still are concerned
that by continuing what we believe to be the illegalities begun under the
Harris administration, Mayor Hannemann also continues the political
corruption and environmental threats.  The huge stage and other structures
and activities associated with Sunset on the Beach take place on the public
beach within the Special Management Area (SMA).  We also believe that the
activity is within the 100-foot shoreline setback area.  On October 26, 2006, we
wrote to Mayor Hannemann about this, stating our concerns that this is in
violation of both SMA and shoreline setback laws.  There are federal, state,
and county environmental laws in place to protect the environment, and
especially the sensitive shoreline areas.  In our letter, we explained our
concerns and cited appropriate sections of the law.  To view our letter,
please click on this link:  
     

 
Here is the frame for the movie screen that has been permanently set up for "Sunset on the Beach"
We believe that Mayor Hannemann's failure to obtain the necessary SMA 
major permit and shoreline setback variance is in violation of our environmental 
laws.  However, we have still not received a reply to our letter.
Why has the Mayor not responded to our letter? What has he got to hide?  If
he was willing to obey the laws and do the right thing, why hasnšt he done
so?  If the city government refuses to abide by our environmental laws, then
how can the city expect the "ordinary citizen" to do so?  And now, we read that 
Tesoro has been named to take over the Sunset on the Beach activities!
[UPDATE 1/18/07] 
Mayor Hannemann 

responds to our October 26 letter!]

 
Link to Mayor's response,   
and to  EnviroWatch's response to the Mayor
Do you know who has oversight of the SMA and shoreline setback laws within
the Hannemann administration?   It is the Department of Planning and
Permitting (DPP), under Director Henry Eng and Deputy Director David Tanoue.
We have heard from a number of DPP employees over the past year, who have
openly speculated that Tanoue is the "de facto Director" of DPP.  His name
is prominent in several cases we have been following.  And, since DPP is the
city agency charged with issuing the permits and enforcing the laws, we find
it revealing that a number of key DPP staff positions have been vacant for
the past 6 months or so.  The positions are vacant within the DPP Land Use
Permits Division, which is one of the most important divisions.  It handles
SMA, shoreline, and other important cases in DPP.  It is unbelievable that
there is no permanent Division Chief in the Land Use Permits Division, or
Branch Chief in the Land Use Approvals Branch.  We have learned that former
Division Chief Barbara Moon retired in May, and former Branch Chief Eileen
Mark quit in June of this year.  So far, six months later, these positions
have still not been filled, and we have learned that interviews for
employees to fill these positions have not taken place,  or  are even 
scheduled to take place.  Instead, the DPP has been functioning by naming
other employees to take "Temporary Assignment."  Assistant Division Chief
Bob Bannister is acting as Division Chief of the Land Use Permits Division.
Art Challacombe, a chief of a different division within the DPP, is acting
as a Branch Chief in the Land Use Permits Division.  Therefore, other
employees have to be put on "Temporary Assignment" to fill in for the
positions they no longer handle.  (However, we have heard that no one has
been named to fill in for the Assistant Division Chief position.)    This no
doubt causes problems for the DPP staff people.  More and more, we find that
people in "temporary positions" are deferring to the DPP Deputy David
Tanoue.  The Hannemann administration would probably not like to have this
information known, but a growing number of DPP employees we have spoken to
are unhappy and demoralized.  They were led to believe there would be a
positive change once Jeremy Harris left office, but this has not occurred.
We have learned that a considerable number of employees believe the
department is becoming more dysfunctional, and this crosses lines between
the various divisions.  However, the Land Use Permits Division is apparently one 
of the hardest hit in this regard.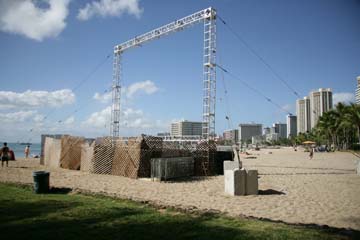 Our beautiful Waikiki Beach has been marred by this permanent structure set up for "Sunset on the Beach"
VIOLATIONS AT ISLAND RECYCLING
Another case that we have been following for many years is Island Recycling Inc.
In their previous location on Sand Island, Island Recycling had SMA
violations and building violations, as well as zoning violations.  It was
classified as a "Waste Disposal and Processing Facility" by former Director
Eric Crispin, under the Harris administration.  However, this classification
was abruptly changed by the DPP to a classification with lesser zoning
requirements ("General Manufacturing Packaging and Processing") when it was
determined that Island Recycling would need a zoning variance to obtain a
Conditional Use Permit, because they did not have the minimum 5-year lease
needed to apply.  A public hearing would have been required for the
variance, and apparently the City and Island Recycling wanted to avoid this
since Island Recycling had been named by the Mayor to do the island-wide
recycling program, and "time was of the essence."   Having not received a
reply to our letter to Crispin, we wrote to Director Henry Eng, under the
new Hannemann administration, requesting clarification of the two land use
categories.   To read our letter to Eng, please click on the following link:

Why do we believe this is an important issue for the environment?  
It is because these classifications are encountered over and
over by the DPP when making determinations about new and existing
facilities, and the types of permits that are needed to allow the uses,
depending on the zoning, details of the use, etc.  Many industrial
facilities are also located with the SMA, so sensitive environmental issues
are involved.   Again, as in the case of our Sunset on the Beach letter, we
have not received a reply.  Why is the DPP reluctant to respond?
KO OLINA 
We would also like to mention the Ko Olina public boat launch
ramp.  Please click on the following link to view information on this subject:

TRASH AROUND THE ISLAND
There is trash everywhere you look.  Mufi promised a cleanup - now, there is 
more than ever.  Click on link for pictures.

SPHERE LLC
We recently recovered documents from the DPP files under the State's 
Uniform Information Practices Act, or "Sunshine Law".  During our review we
found that Deputy Director David Tanoue  personally altered, and ordered 
his secretary  to place language in the P-5 Zoning clearance form required by 
the Hawaii State Department of Health that had been submitted by 
Pacific Aggregate, dba Sphere LLC.   This was done  

because

 several  
DPP employees refused to sign the  original document submitted 
by Sphere, LLC.  
Earlier this year we wrote to Mayor Hannemann requesting that the DPP issue a 
Notice of Violation to Sphere LLC for operating a concrete and construction debris
site, and for disposal of coal ash.  We did not receive a response from
Mayor Hannemann, and a citation was never issued, but our letter of complaint 
was in the file.  When DPP employees inspected the site they also confirmed that
there were violations.
Members of the Waianae community invited Mayor Hannemann to attend a public
meeting, but he declined.  Shortly thereafter Mayor Hannemann attended a private
meeting with people affiliated and supporting Sphere, LLC at the City Hall in Kapolei.  
When we went to the City Hall, Hannemann hid from our cameras and his deputies 
placed their hands over the camera lens.  The question is, why would Mayor Hannemann 
meet privately with individuals supporting and working for Sphere LLC, and not meet 
with community members who oppose Sphere's operation.
SYNAGRO
In Mayor Hannemann's 2006 State of the City Address, he claimed, "On April 1

the Synagro plant will begin converting sewage sludge into fertilizer pellets.

That will remove more than 8,000 tons of sludge from the waste stream and reduce

much of the odor generated from dumping it at the landfill. We're also working with

the Navy to recycle sludge, a move that will compost another 2,100 tons in the

waste stream." Today, nearly a year later, no pellets have been processed and as

much as 30 tons of the smelly sludge is being dumped in the Waimanalo Gulch landfill

each day.

And the list goes on. We have formally requested the resignation of Mr. Eric Takamura, from the position of Director of the Department of Environmental Services (click on following link to see letter).

We will be producing videos on 'Olelo Community Television exploring these, and other issues, involving the environment.